How ConvertKit Helped Grow My Email List 430% in 1 Year
When I signed up for ConvertKit in January 2015, my email list was hovering around the 3,000 mark. Now, in December 2015, my email list is just shy of 13,000. That's 430% of growth in just 12 months! However, there is a significant price tag associated with such a high number, and I want to share with you why I can justify paying hundreds of dollars every month for ConvertKit to host my growing email list.
How I grow my email list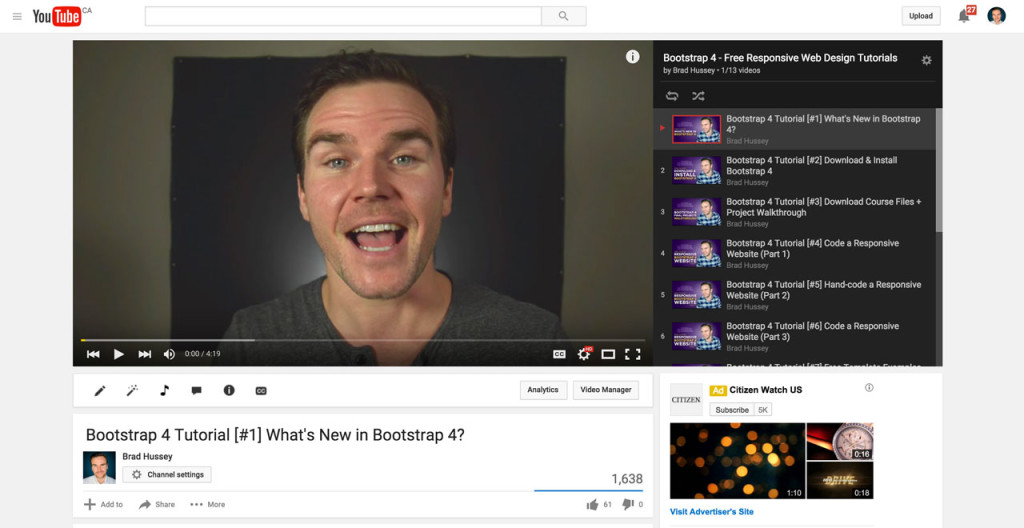 The majority of my email subscribers come from my free coding tutorials on YouTube. I receive a significant number of monthly views on my videos, and I convert my viewers into email subscribers by offering downloadable course files to augment their learning experience in exchange for an email address.
I initially started building my list with MailChimp, primarily because they offer an attractive free plan. However, I never actually did anything with my list except send out broadcasts when I'd write a blog post (which was rare). By the time my list grew to over 3,000 people I realized I should probably set up an autoresponder sequence to try and convert my subscribers into paying customers for my online courses.
From MailChimp to AWeber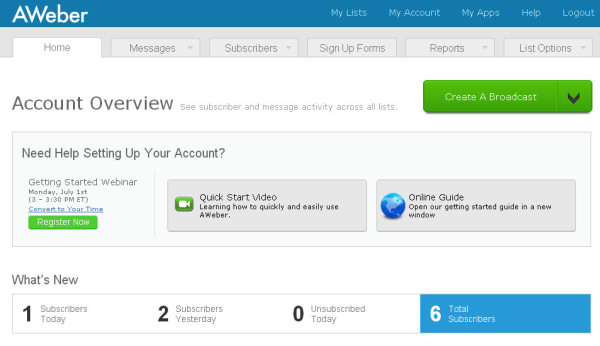 That's when I decided to pony up some cash, and switch to AWeber based on Pat Flynn's recommendation. It allowed me to do all the things I couldn't do with a free MailChimp account, but I was unhappy with a couple of things:
The User Interface looked like it hadn't changed since 2001
You pay a base monthly rate + a cost per subscriber, but if the same subscriber signed up to three different lists (which is a totally normal thing) you'd be charged three times for that subscriber, as if that subscriber were three different people
From AWeber to ConvertKit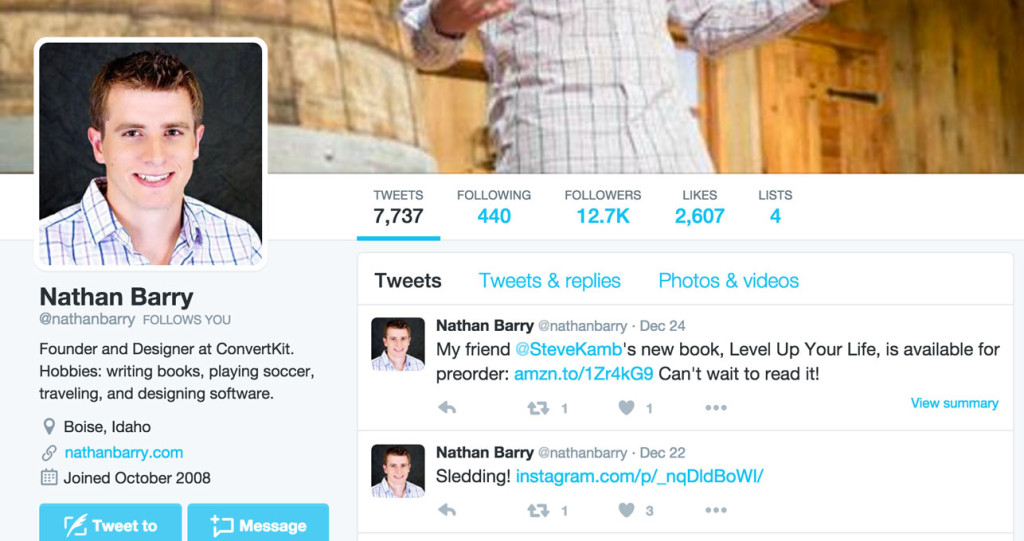 One day I was contacted by a dude named Nathan Barry. Now, I'm not gonna lie, I probably would have geeked out a little if I knew how popular he actually was, but at the time I just thought he was another guy who wanted to Skype with me about my experience as a Udemy instructor and how I make online courses.
After doing my research, I realized Nathan was legit — he runs a popular design blog, he has a significant social media following, and has been featured on top podcasts like The Smart Passive Income Podcast with Pat Flynn, and Entrepreneur on Fire with John Lee Dumas. In addition to establishing authority as a design blogger, Nathan had started ConvertKit to solve the problems most bloggers & content creators have when it comes to Email Marketing software (see my issues with MailChimp & AWeber above).
Nathan sweet talked me into signing up for ConvertKit, and I'm very happy he did. Because from January 2015 to December 2015, ConvertKit helped me grow my email list from 3,000 to nearly 13,000.
Justifying the price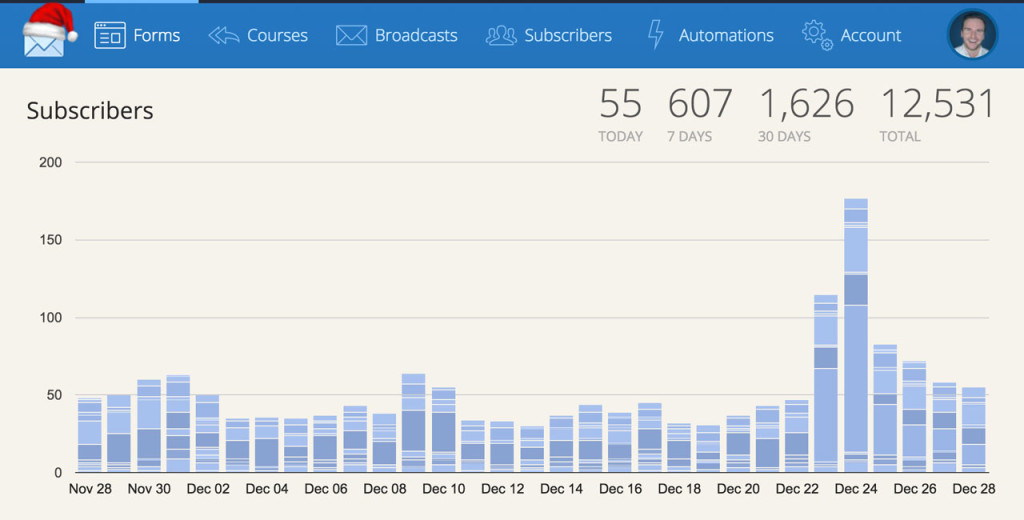 An email list of nearly 13,000 also means I have to pay $150 USD / month, which actually works out to over $200 CAD / month.
At first, that price freaked me out because I didn't initially understand the value of having an email list. Even though my list had grown significantly — I still hadn't made any money directly from my email list, mainly because I'd only ever offered free email courses, and I'd never actually tried selling anything to my list.
However, I quickly changed my tune when I launched a paid coding course — The Ultimate Web Designer & Developer Course — to my email list. After extensively researching how to effectively launch a course to an email list, I carefully planned my launch, and used the tools available to me in ConvertKit to execute the launch.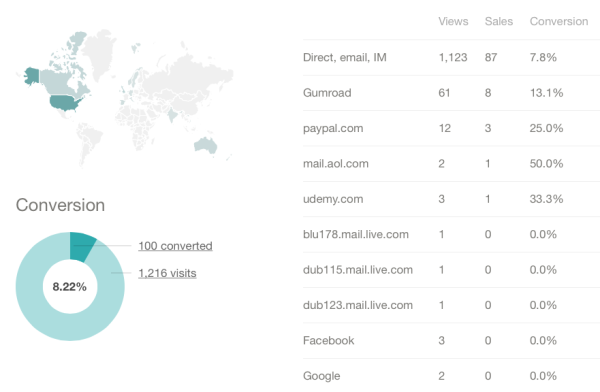 I guess you could say the proof was in the pudding, because my first launch using ConvertKit got me 100 sign ups for my new course. While I'd prefer not to share exact figures, let's just say that the revenue generated directly from using ConvertKit to launch my course was enough to pay for my ConvertKit subscription for a very long time. (Read my detailed guest post on the ConvertKit blog about my course launch here)
Needless to say, I no longer question the value of my email list, and I certainly see the incredible value offered to me by ConvertKit.
Wrap up
Let's be clear: there is no gadget, piece of software, or service that will guarantee you a successful product launch. A successful product launch is dependent on a few key factors:
Your audience (and if you have one)
The problem your audience experiences
The solution you provide them
You could have a large audience, but if you offer them a solution to a non-existent problem, they won't care. The same goes if you have a great solution to a problem, but no audience to sell to. Or, perhaps you're offering the wrong solution altogether.
That being said, a great tool like ConvertKit can help you grow your audience, learn the problems your audience experience, and give you the right tools to provide your ultimate solution. It was because of ConvertKit that I was able to grow my email list from 3,000 to nearly 13,000 in less than a year. It was because of ConvertKit that I was able to cultivate a relationship and provide high quality content to my audience with an automated email course. And it was because of ConvertKit that the effectiveness of my course launch — and the revenue I generated — was dramatically amplified.
As ConvertKit gains popularity, signs big name bloggers like Pat Flynn & Leo Babauta, and grows larger as a company, you can bet your bottom dollar that they will be taking over the #1 spot in Email Marketing software. It really doesn't matter if you're starting out from scratch, or you've amassed a following in the tens of thousands — I'm confident ConvertKit will help you rapidly grow your audience, expand your reach, and convert your list into paying customers.
—
If you're interested in learning more about ConvertKit, click here. This is an affiliate link, and should you decide to sign up for ConvertKit using this link, I'll receive a commission at no extra cost to you.