How Two Canadians (and a Dog) Drove From Yellowknife to Mexico. Then Decided Not To Come Back. — An Interview with Nadia & LJ from Travelen.org
[dropcap background="yes" color="#333333″]W[/dropcap]e've all seen and heard the news about Mexico—on the surface it looks like an insanely dangerous country, ridden with violent drug-related crime—and for the most part, we buy into it. Why? Because humans are fearful creatures, and can be easily manipulated into making (or not making) decisions out of fear. We like to feel safe!
But can we simply throw a blanket statement over an entire country that says, "NOT SAFE. DON'T GO. EVER."? Is Mexico really as bad as it seems? Or is there something more to the beautiful, spanish speaking country that us gringos have overlooked?
Nadia and LJ seem to think so.
Nadia and LJ are a couple lovebirds from Northern Canada who decided to pack up their Jeep, take their dog, and drive from Yellowknife, NT (my hometown) all the way down to Sayulita, México — with no return date. Both LJ and I actually grew up together and were best buddies in Yellowknife, so this interview was actually quite a treat for me!
Backgrounds
1. Where are you both from?
I grew up in Chilliwack, BC and LJ's hometown is Yellowknife, NT.
2. How and where did you both meet?
We met through mutual friends in Vancouver, BC at a bar called The Cambie. LJ had a mullet and handbar mustache, and I thought it was hilarious.
3. What are your employment situations?
LJ is a heavy equipment operator. He works at mine sites throughout northern Canada. I run a marketing company that specializes in web and graphic design. I work online.
4. LJ – How does your work situation allow for long-term travel?
I typically fly into work for two weeks, then have two weeks at "home". So, I essentially have half the year off. I just fly in to meet Nadia wherever she is. (It's only about $100 more to fly from Mexico to Edmonton, which is my point of hire, than from Vancouver.) — LJ
5. Did you ever have to leave Mexico to go back to work?
I actually left Mexico five days after arriving here. The first leg of our journey outside of Canada was very fast-paced, since we had less than two weeks to get to Mexico, find Nadia somewhere safe to stay, and get me to the airport. – LJ
6. Nadia – You're a location-independent entrepreneur. How did you stumble upon that career path?
I've been into marketing and web design for ages, and involved in a few entrepreneurial ventures. It had to end up this way, though; I'm no good at staying in one place.
7. What steps did you take to get where you are today?
Becoming location independent required a lot of downsizing – no 27" monitor, fancy laser printer, or monstrous filing cabinet. My Surface Pro 2 and portable scanner are my best friends, and I've learned to use a lot less paper. I've also teamed up with some great printers in order to provide comprehensive service to my clients from anywhere.
8. Have you been able to keep working while travelling?
Yes. I work all the time. And since I'm meeting so many people, I'm making great new connections all the time.
9. Are there any tools/resources you use to keep you focused and/or on track?
I learned really quickly that working on a beach isn't as wonderful as it sounds. However, living near a beach is! I use all my incredible surroundings as motivation to get my work done, so I can go out and explore. I also use Freshbooks to keep my accounts and invoices in order – it's a great program for freelancers and small businesses.
10. You guys started a travel blog: travelen.org – tell us a bit about that.
Travelen.org is an (overland) travel resource website. It's an amalgamation of all the information we wish we had when we were planning our journey. Our end goal is to make real travel more accessible and less intimidating, regardless of your situation. By sharing our experiences and mishaps, and developing useful resources along the way, we hope to encourage more people to travel and experience all the benefits that come along with it. (Resources include information on documentation, vaccinations, travelling with a pet, etc.)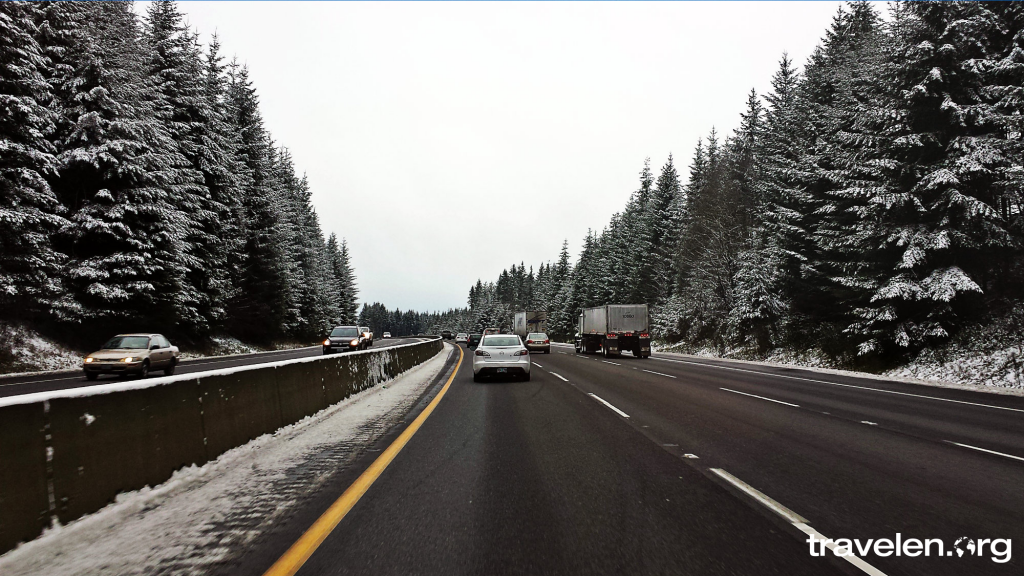 Planning & Itinerary
11. Where did you guys start your journey?
Our journey officially started in Yellowknife, NT. Ultimately we'd like to document what it takes to travel from "top to tip" – from the northernmost city in Canada to the southernmost city in Argentina. Many people have done a similar trip from Alaska, but there is practically no documentation of such a trip from northern Canada.
12.How long do you plan to be on this trip?
Our timeline has always been indeterminate. Since we've realized how sustainable this lifestyle is for us, even more so. We have no end date.
13. What made you decide on such a long travel expedition?
We love to travel, and in 2013 we purchased the perfect overland vehicle. We are determined to show that with the right resources, planning, and budgeting anyone can do what we're doing.
14. How far in advance did you organize this trip?
We started planning the logistics of it in early 2013. This is a little dorky, but we were really obsessed with the TV show Prison Break at the time, and all the scenes in Panama City had us really excited to explore Panama.
15. What does the rest of your travel itinerary look like?
We don't have much of an itinerary. We're going down the west coast and up the east coast. Some of the places we'll visit along the way have been recommended to us by friends and fellow travellers, and some of our upcoming accommodations have been graciously offered to us by my clients.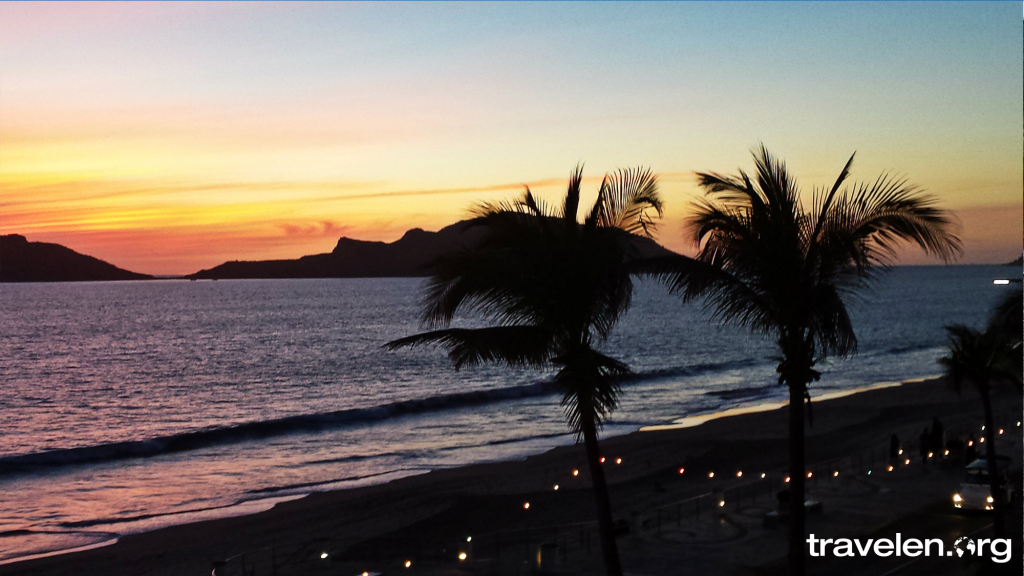 The Dangers of Mexico
Many people are under the impression that Mexico is incredibly dangerous and ridden with violent drug-related crime. You guys drove all the way from Canada, through the USA and into Mexico…
16. What is your experience with this situation? Is Mexico as bad as it sounds? Have you found yourself in a dangerous or life-threatening situation?
Mexico is a great country with kind people. There is crime, and in the border states there is a surplus of it, but it's mostly drug-related. Mexico is much like anywhere else. If you use common sense and don't look for trouble, you're not likely to find it.
17. Have you run into any major issues or setbacks on your road trip to Mexico?
Our biggest setback has been not speaking Spanish. You can get by without it, but knowing some conversational Spanish definitely helps.
18. Were any of your friends or family members concerned about you guys driving through Mexico?
Absolutely. Between the news, Canadian Travel Advisory, our friends and families, we didn't hear anything good (short of how great a resort was). I won't lie – it did get to us, but we bit the bullet and did it anyway, and we're so, so glad we did.
19. What precautions did you take to ensure your safety and well-being?
Photocopies everywhere. Also, we bought a SPOT GPS tracker has been great, and provided a lot of peace of mind for my family.
20. Where did you cross the USA/Mexico border? Were you nervous or scared at all?
We were totally nervous! We crossed the border in Nogales, Arizona. We chose that crossing because the CTA said that if you were going to cross anywhere, that was the safest option. There are two crossings – one in Nogales and one about a hundred miles south. Except for the time we spend getting our vehicle permit, they took no time at all.
So far, we haven't even been searched or had our vehicle searched.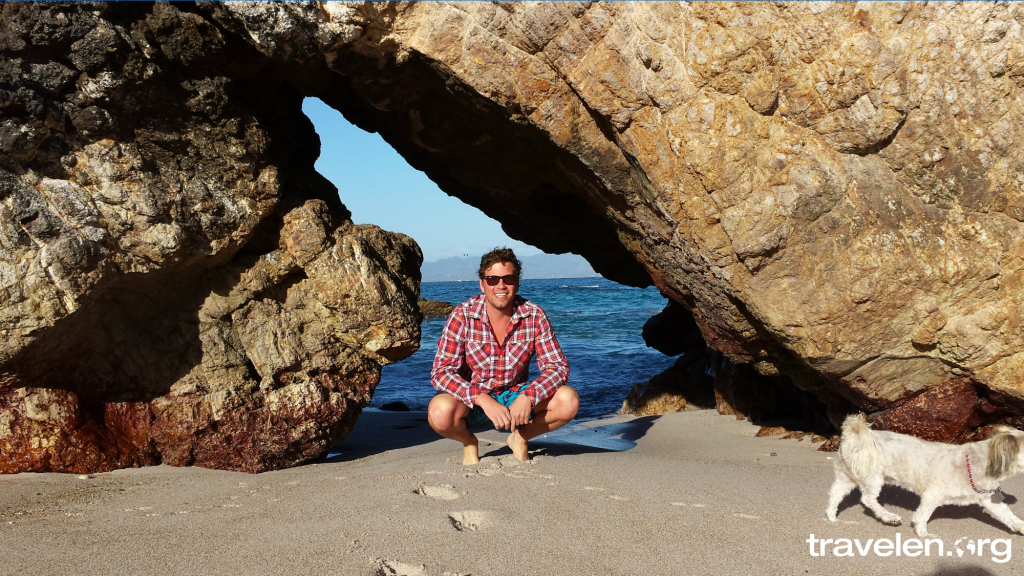 Life in Sayulita
You've spent a considerable amount of time in Sayulita…
21. Where is Sayulita?
Sayulita is a small, eclectic surfing village on the Riviera Nayarit. With good traffic, it's about a thirty minute drive from Puerto Vallarta.
22. Why Sayulita?
We initially settled on Sayulita because we had to find a safe place for Nadia to stay while I went back to work, preferably near an airport. We sort of stumbled on Sayulita and, literally within minutes, fell in love. We booked a place for a month, and just haven't left yet. – LJ
23. Is Sayulita safe?
Incredibly so. Sayulita actually feels safer than any of the places we've lived, night or day. The village is family—and pet—friendly, and the community is very strong.
24.What does a typical day look like for you guys in Sayulita?
Early morning: go for a run, make coffee, have breakfast on the patio
Late morning: LJ plays guitar and/or goes for a surf, Nadia goes to a cafe to work
Lunch: make or go out for lunch, maybe go to the beach for a bit or go explore
Afternoon: pick up some fresh fruit, veg and fish; maybe drive to a neighbouring village
Evening: dinner is usually late (once it cools down) and there is live music every night, so sometimes we go out
It's pretty laid back, and it's not always the same. We go on a lot of little excursions. Fishing, boating, snorkeling, exploring. That's a good idea, though.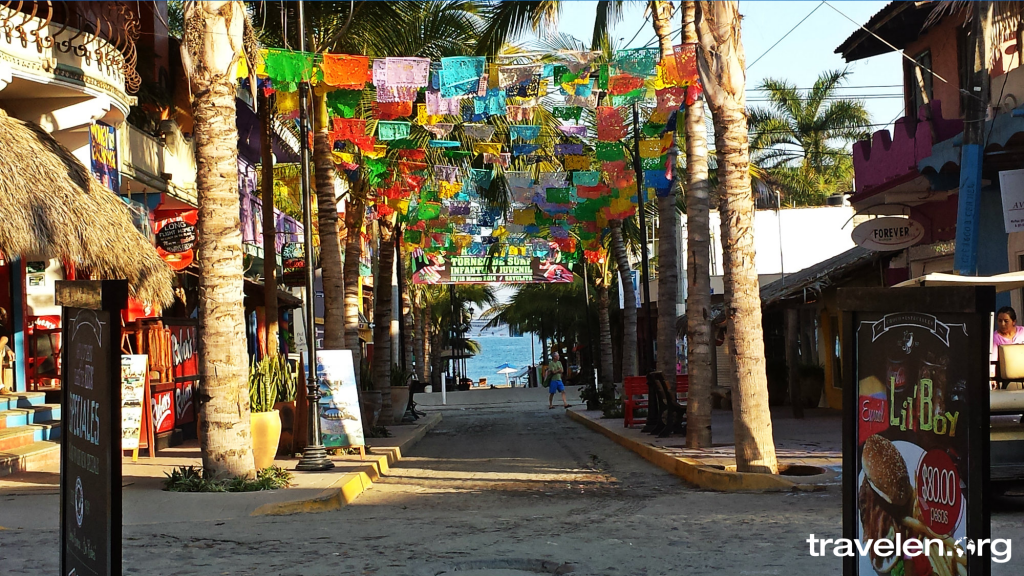 Cost of Living
[pullquote align="right" background="on"]This month our cost of living will drop down to about $15 each a day.[/pullquote]
25. How are you funding your trip?
We saved up for the big things: the drive down, auto insurance, health insurance, vaccinations. These were all up-front costs so we wanted to have them covered. Otherwise, I work remotely and LJ flies into work.
26. What is the daily cost of your current situation in Sayulita?
It varies, but we spend about $30 each a day. This includes housing, food, pet supplies, going out, surfboard rentals, random purchases. Keep in mind, this is one of the most expensive places to live in Mexico, and it can be done for a LOT less (even here). This month our cost of living will drop down to about $15 each a day.
27. Are you in a hotel, vacation rental, condo? What are the costs associated with that?
Right now we're living in a studio suite. We pay 1700 pesos ($150 CAD) per week. Next week we're moving into a house, and our housing costs will drop to $25 per week(!). It's not too hard to find arrangements like this during low season.
28. What do you guys eat? Do you dine out every meal? Eat at home?
Since arriving in Sayulita, our diets have changed significantly. With an abundance of organic, GMO-free vegetables and freshly caught fish, we've been eating almost exclusively that. Meat is a rarity. We eat out a few times a week for cooking inspiration and travelen articles, but we love to cook at home.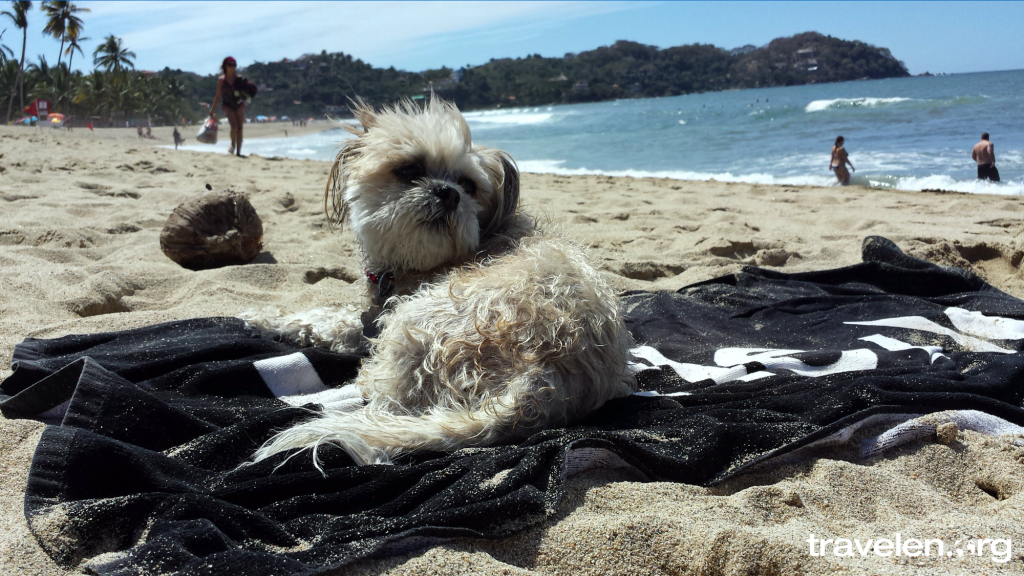 Taking Your Dog to Mexico
29. You decided to bring your dog! Why?
This was a paradoxically complicated/obvious decision, which we wrote about in an article called Why We Overland With Our Dog.
30. Has taking your dog negatively affected your travels in any way?
It has limited our travels (fewer accommodation options, more paperwork), but the pros far outweigh the cons.
31. Was it hard to travel into Mexico with her?
Not at all. We've yet to be asked for any documentation for Sophie (but we do have it). Also, Mexico has great pet health care at very reasonable rates.
32. What was required to get her across the US/Mexico border?
We go over what's required (and what we recommend having) to travel with your pet into Mexico on our Pets resource page.
33. How do make sure she's happy and healthy on such a long-term adventure.
Sophie is an excellent traveller, so it hasn't been hard. We have an active lifestyle, we feed her healthy food, and we keep her up to date on her preventative meds. She is socializing every day, she has toys and her bed. She is also a TOTAL beach bum.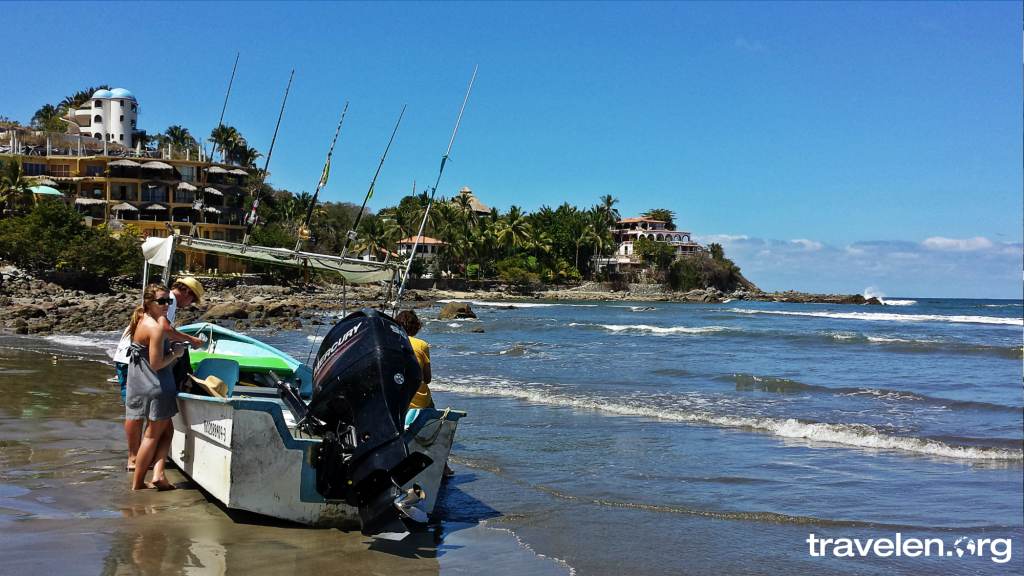 Speaking Español
34. How is your Spanish? Did you learn before going?
Our Spanish is okay. Before leaving we used the Duolingo app to get a head start. It's great, although it doesn't go over a lot of regional diction and it doesn't work offline. So, once we hit the road we didn't really have access to it. Now we practice in conversation, but we'll both be signing up for some intensive lessons soon just because.
35. Has your Spanish helped you since being there? In what ways?
For sure. It's important to know Spanish in Latin America. You can get by without it, but you'll lose a lot of respect from the locals and other expats. It's just common courtesy to at least try to learn. It helps us with every day stuff.
36. Would you consider yourselves conversationally fluent?
We're getting there.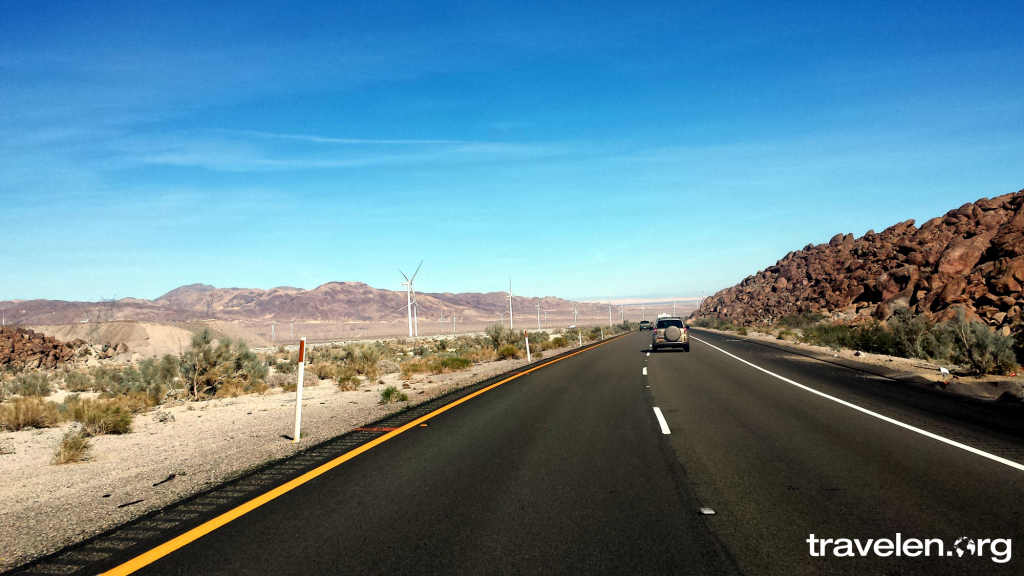 Overland Travelling
37. How has your vehicle held up with the long-distance drive? Any breakdowns?
So far so good. Our vehicle is fairly new, though (2011) and we keep it well-maintained.
38. What did you pack in your vehicle to ensure your safety on the long drive?
Our best planning was done for the Jeep. We had everything from first aid kits and a roadside emergency kit to clean water and extra food. For maintenance we had extra fluids and tools. For comfort and warmth we had blankets and pillows. And just in case we needed it or wanted to do some impromptu camping we had a stove and lots of kitchen gear.
39. What websites/books/blogs did you research before embarking on the journey?
We followed a bunch of great overland blogs for inspiration and information. Our favourite informational blog is Drive the Americas. It covers everything from road conditions to how to deal with bribes. Our favourite inspirational blog is Landcruising Adventure, which is written by a dutch couple who have been on the road for over ten years. Karin-Marijke is a great storyteller and Coen is a fantastic photographer.
40. Do you have any tips or must know advice for travellers interested in long-term travelling to Mexico?
a) Don't overthink it. Budget, plan, get your ducks in a row, and then just do it.
b) Don't expect the culture to adapt to you. You'll have a much more fulfilling experience if you try to learn the language, try the food, and so on.
c) Don't be scared to bring your pet! It's very dog-friendly here.
41. Where's "home" after your adventures in Latin America?
Who knows. We're finding that with our work situations it's very sustainable to live in Latin America, and the quality of life here is so much better. So, we go back to Canada. We may stay here. We may continue on to somewhere else (we've thought about Scandinavia or the Pacific).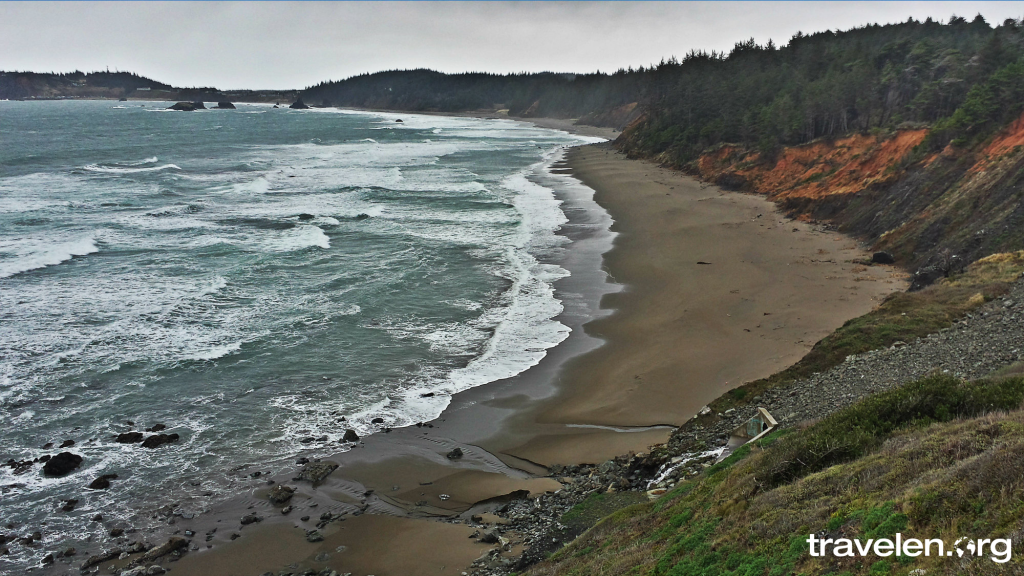 Miscellaneous Questions
42.What's the water like in Sayulita?
You can't drink the tap water, but in most cases it's fine for washing vegetables, washing your face, and even brushing your teeth. Filtered water is readily available and inexpensive.
43. Have you gotten sick?
We got sick a few times driving through the US, but not in Mexico.
[divider type="thin"]
What do you think? I'd love to hear from you!
Have you ever travelled to Mexico before? Were you ever concerned for your safety? What was your experience? Let me know in the comments below!
¡Salud!
Brad
[well]
Resources mentioned in this article
[divider type="short"]
Microsoft Surface Pro 2 (affiliate link)
Portable Scanners (affiliate link)
Freshbooks – Try it Free for 30 Days (affiliate link)
Overland Travel Resources – Travelen.org
Prison Break TV Show (affiliate link)
Canadian Travel Advisory – Mexico
SPOT GPS Tracker (affiliate link)
[/well]