Looking Back on 2014: An Annual Review
In order to move forward into the new year with confidence and clarity, I think it's important to reflect on what went well and what didn't; the highlights and what needs to change. I've never done an annual review before, but I feel as though it's necessary because a lot happened last year.
Please keep in mind that the purpose of this review is primarily for personal reasons, so I can have an official record of my year, and to know how I can grow in this new year. However, that being said, I am aware I have an audience and I hope that this review will serve as a way for you to get to know me a little better. Perhaps something in what I say will inspire you to make change in your own life this year: to work towards something big, to regain control of your freedom, to cultivate your passion, to fall in love, to take charge of your destiny.
The Year of Transformation
If there is a single word to describe last year for me and my family, it would be "transformative". We've experienced so much change in 2014, personally and professionally, that we feel like we have transformed into better, more mature versions of ourselves. We've experienced struggle and success, confusion and clarity, great highs and deep lows — all in the same year.
With that being said, let's continue on to the review…
My Profession: What is it that I do all day?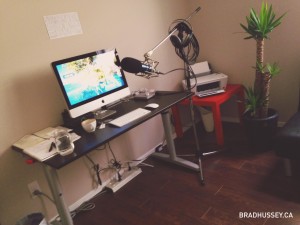 I still have great difficulty explaining to my friends (and even close family) what it is that I do for work. I work in a very unconventional setting, and therefore have no definitive "role" at my "job" — so I can't just say something like "I'm a Junior Financial Analyst at Royal Bank of Canada".
I used to say "I work from home as a freelance web designer," but I realized over time that I felt cheated by that response. Freelancing is only a small part of what I do, and "designing websites" only accounts for a fraction of my business at this point. I also feel that response doesn't even come close to conveying the passion I have for what I get to do every day!
I've since realized there really is no one title to describe my job. In fact, I don't even consider what I do a "job"! Do you see how confusing this can be for people who just want a simple answer from me?
I don't get paid by a single income source, like an employer, so I have to keep track of every single dollar that goes in and out of my bank account. Because I've kept such a detailed report on my income in 2014, I can easily break down for you what it is I do in my business, and how I actually pay the bills.
How I make money
Freelancing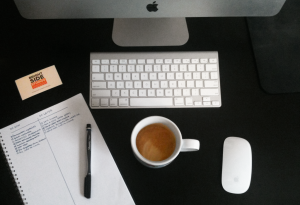 Yes, this is how it all started for me. When I quit my full-time job, 100% of my income came from freelancing. Currently, that is not the case, although freelancing accounts for roughly 40% of my income.
I own a company, called Brightside Studios Inc., which is a one-man operation, but I regularly hire a small team of talented colleagues which allows Brightside Studios to deliver comparable, if not superior, quality to the local boutique agencies. I work with small businesses—like dentists and real-estate developers—to help them design and build their websites from top-to-bottom. I also work with agencies, locally and nationally, to help them with the online aspect of a digital campaign, or to build custom website solutions for corporations and notable brands.
Teaching Online Courses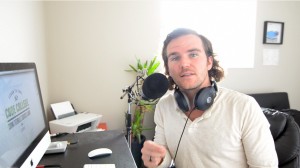 In my first year of self-employment, my sole income source was freelancing. This arrangement seemed to work well until one month I only made $708.75 — not even enough to cover rent. I decided I had to find a way to create additional income streams—much like when you diversify an investment portfolio—in order to soften the blow when I wasn't getting a lot of work. I realized my knowledge for web design & development was valuable, not only to my clients, but to people who wanted to learn to design and build websites themselves.
Udemy: the Google search that changed my life forever
This led me to Google searching for ways to "teach online courses". Ultimately, I found Udemy. That Google search changed my life forever. I immediately started creating my first online course, PSD to HTML5 & CSS3, and launched it on New Year's Day in 2013.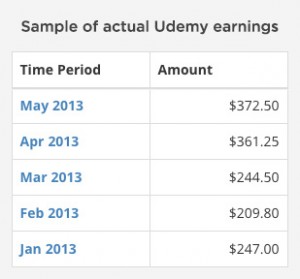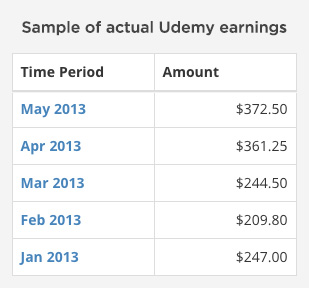 In my first month, I earned $247 in online course sales. Since then, I've went on to create a serious business in teaching online courses, and have (to my absolute surprise) started to establish myself as an authority with more than 60,000 students!
At this point, I spend a large chunk of my day working on online course creation, brainstorming new content, coming up with new ideas, updating current courses, responding to student questions, and reading & replying to personal emails from my students (I get about 100 new emails every day).
Code College
Because of the demand and growth I experienced on Udemy, I decided I wanted to also grow my own "brand" of online courses. I ultimately launched Code College, my very own "online coding school" where students can access all of my online courses. While it's still in it's early stages, Code College has grown rapidly since it's inception.
That being said, online courses from Udemy and Code College easily account for at least 50% of my income at this point, which is almost entirely passive income — meaning, I put in the hard work upfront, and continually make money from it every month.
Blogging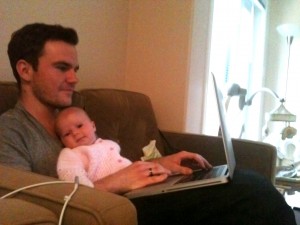 This is something I never saw coming! I've owned BradHussey.ca for a long time, and it's evolved a lot over the past 6 years or so — from a "band" website, to a design portfolio, to an unconventional lifestyle & freelance blog. I never had an official purpose for the site, and it was mostly personal ramblings on random subjects I was moved by at that moment in my life. Once I started working for myself, I unintentionally started finding my voice, and began writing about minimalism, living a vibrant life, and challenging the status quo.
I never thought to focus on growing a list of "subscribers" because I honestly didn't even know what that meant — I didn't even subscribe to blogs, so how was I to know that was even a thing? The first blog I subscribed to was Pat Flynn's Smart Passive Income, and I remember reading that his biggest regret was not "building an email list" earlier. So, I thought, what the heck, I'll add a "subscribe" button and see if anyone is even reading this stuff.
Turns out that was the case! After only a few weeks of having the "subscribe" button on my blog, I noticed that over 50 people had subscribed and actually seemed to care about what I wrote.
That changed everything. I suddenly felt a responsibility to not let these people down! They think I'm legit, so, I needed to act like it. That's when I started officially blogging, with a theme to my writing, and on a more regular schedule. To my absolute delight, I've since grown my email list to over 3,500 readers, and it's growing every single day.
Before we go any further, I want to make it clear that I really don't make any money directly from blogging. I have no advertisements in my sidebar, and don't get paid to write. However, indirectly, blogging makes me money — I am an affiliate for certain products & services, and if my readers want to use my affiliate link for a certain product, I'll get a commission for that sale (at no extra cost to my readers). Also, my readers will often sign up for an online course of mine, because I mentioned it in my blog, and I'll make money that way.
I'd estimate that blogging indirectly generates about 5% of my total income. Not a lot, but it certainly helps! Besides, I don't blog to make money; I blog because I want to share my story, build a relationship with my audience, and provide valuable content to my continually growing list of readers.
YouTube
While I don't necessarily consider myself a "YouTuber", I have gained a relatively significant amount of attention because of the free coding tutorials I share on my channel. This has caused my channel to grow from less than 200 subscribers to more than 5,600 subscribers by the end of 2014. My YouTube earnings only accounted for about 1% of my income in 2014, but the purpose of YouTube for me, like Blogging, is to establish and grow my online brand.
Business Highlights
A lot of really big things happened for me this year in my business, and here are some notable highlights:
My growth on Udemy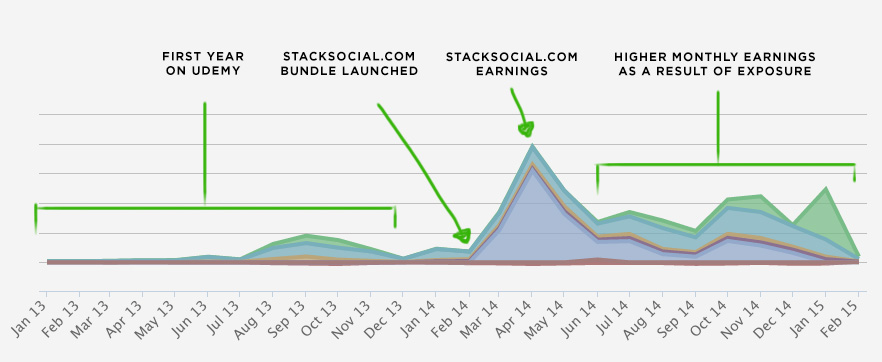 In 2014, the number of my students on Udemy grew from around 5,000 to over 50,000! I can directly attribute that growth from two of my courses being featured in a "pay-what-you-want" coding bundle on the popular website StackSocial.com. This caused a huge spike in my earnings during the summer, and the exposure has significantly boosted my monthly earnings since.
Blog subscriber growth
As a side effect of my attention on Udemy, many of those new students found out about my blog, and began subscribing to my email list. In 2014 alone, my subscribers grew from only a couple hundred subscribers to over 3,000!
Launched Code College
Technically, Code College launched late 2013, but I was merely testing things out and never really focused on building it until the beginning of 2014. I was able to grow Code College from 0 to approximately 1,000 students. Granted, only a small handful of those students are paying subscribers, but I'm happy with where it's at so far.
Launched a Free Course
At the beginning of 2014, I launched a free PHP course, called Code Dynamic Websites with PHP (now Practical PHP). While I don't make any money with free courses, they do attract a lot of attention, and this helped to grow my audience and ultimately, establish a bit more of an authority in my niche.
Met Chris Guillebeau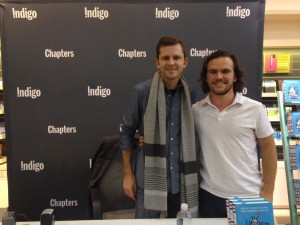 I suppose this can be considered a "personal highlight", but because his writing is a huge inspiration to me in my business, I consider it a business highlight. He came through Calgary on his "Happiness of Pursuit" Book Tour, and I was able to introduce myself and have a quick chat with him. Cool!
I met my annual revenue goal in 6-months
I'm really excited about this one! Basically, at the beginning of 2014, I told myself that I wanted to earn a specific amount of income by the end of the year. It was a pretty high number for me at the time, and I had no idea how I was going to make it happen, but I committed to the vision.
In July, I was doing my monthly bookkeeping and realized I had already met my goal! By no means was I able to just stop working for the rest of the year, but because I'd already met my goal, I was able to rest assured that I didn't have to make a specific amount of money each month to meet my goal. Because of the extra income, I was able to focus more on course development, and put a lot more quality and effort into building even better online courses.
Incorporated Brightside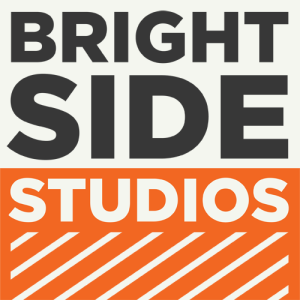 I told myself I didn't want to incorporate until I made a certain amount of money in my business, because it just wouldn't make sense to pay the legal fees, and fool around with all the technical details and semantics of incorporation. When I hit my annual goal at the 6-month mark, I had a chat with my accountant and realized it was time to take the leap. In October 2014, I incorporated Brightside Studios and officially became an owner of Brightside Studios Inc.
Personal Highlights
2014 was a very exciting year for me outside of my business, too! Some of my personal highlights include:
Moved from Newfoundland to Calgary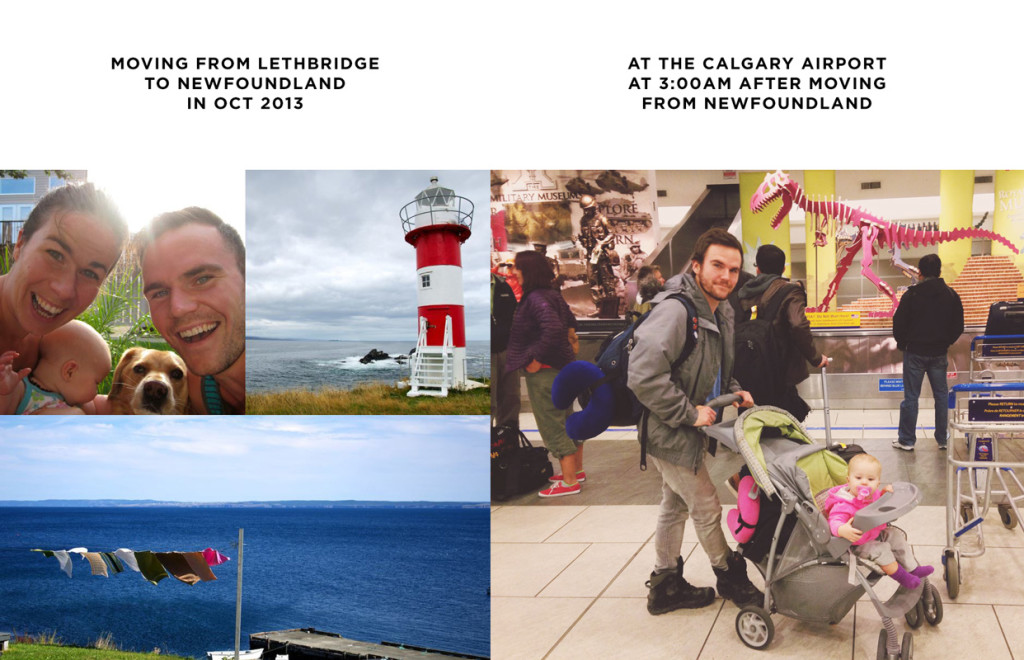 At the beginning of the year, we made the 6,000km from the far East coast of the country to the Wild West! I found a great house for us to rent, and used my negotiation skills shave $150 / month off our rent! We also have a lot of friends in Calgary, so finding our groove was fairly easy.
Travelled to Las Vegas for the first time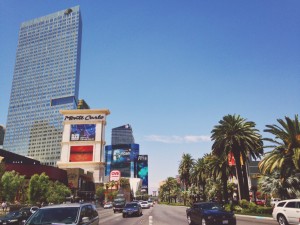 A couple days before Father's Day, I was in a funk because the poor weather in Calgary was wearing on me, and I had a hankering to just get out of town — even for a simple road trip somewhere. Little did I know, Laura had something even better planned! Only hours before our flight, Laura told me we were going to Vegas to celebrate Father's Day and soak up the sunshine! I was SO surprise, and thrilled! Luckily, because of my business, packing up and just going somewhere is no problem at all! I brought my laptop in case I needed to handle a quick job, but other than that we had a great time in Vegas! We took in the sites & sounds, we checked out a Cirque du Soleil show, ate out at fun places, did a little gambling (went with $100 to gamble, and came back with $105!), and — one of the highlights — ate at the famous Bacchanal Buffet at Caesar's Palace.
Had an amazing summer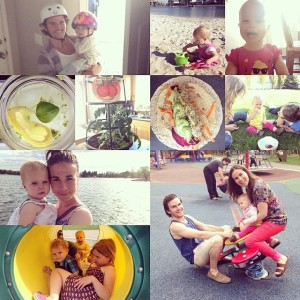 Our summer was filled with sunshine, going to the beach daily, stand-up paddle boarding, swimming, road trips, weddings, and visits with — what seemed like — every single one of our friends. I planted a vegetable garden, biked everyday, and had a total blast.
Discovered the beauty of life through the eyes of my daughter
Ayla is amazing. She's so simple, yet so complex, and she forces us to live in the moment every single day. Seeing and experiencing the simple beauty of the world is something many of us adults sadly lose as we mature. But when you have a little rugrat to take care of, you begin to see the world through the eyes of a child, and it's truly wonderful. Things as seemingly insignificant as a ripe raspberry in my garden would magically become the most intriguing, wonderful little piece of heaven.
5-Year Wedding Anniversary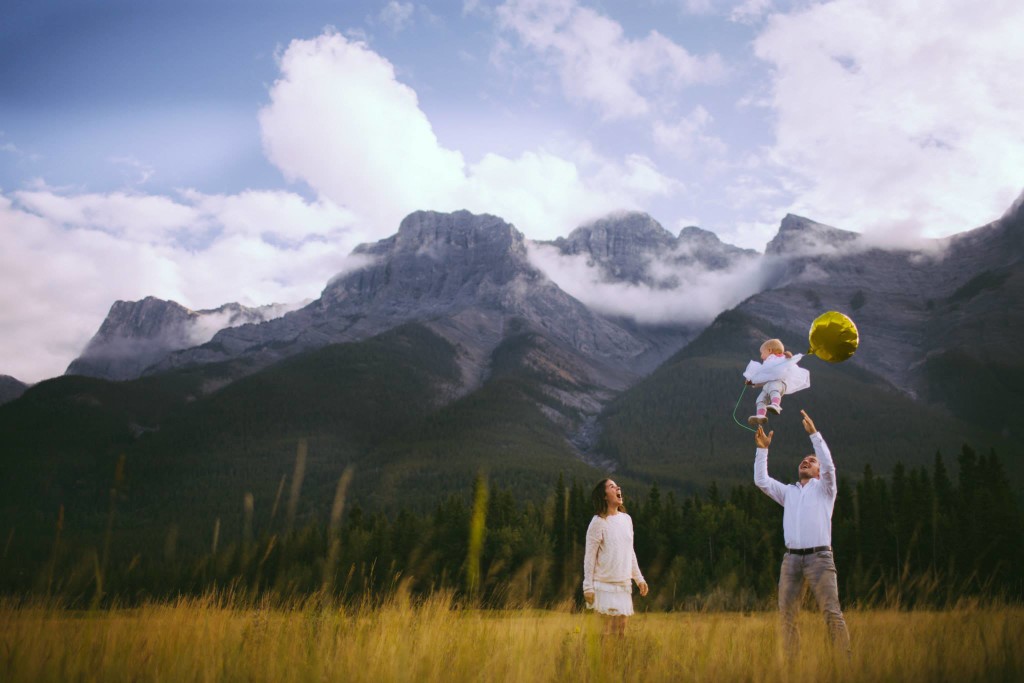 My wife and I celebrated our 5-year wedding anniversary in the summer. We went to the mountains and had a professional photoshoot (something we've never really done before). It was so amazing looking back on the time we've spent together, and then seeing our beautiful little daughter running around —half me, half Laura—I couldn't help but experience the heartwarming feeling that my life is complete.
Flew First Class for the first time
For Laura's birthday, I surprised her with a trip to Vancouver to see our friends, and the place we used to live when we first got married. I had racked up a lot of Aeroplan points thanks to a few travel hacking tips, and from travelling to Hawaii, then Newfoundland and back to Calgary, so I had more than enough points to book our trip First Class both ways! Wow — that was fun. We most certainly took advantage of all the perks — the Maple Leaf Lounge, the food, the booze, the free magazines — however, we most definitely looked like First Class "virgins"!
After experiencing First Class, I don't know how we're going to go back to flying economy class. Well, I guess I'll have to add another "Outlandish Life Goal" to my list: fly first class, every time. 😉
My parents retired
My parents, who are originally from Newfoundland, moved way up north to Yellowknife decades ago, and have since worked their butts off to provide for me and my brother, to put food on the table, to help us through school, and to help us become the men we are today. I'm eternally grateful for everything they've done for us, and I'm so happy to see them finally get to retire and move back home to "the rock". They're thriving, loving retired life, embracing the "snowbird" lifestyle and kickin' it in Florida when it's too cold to stay in Canada. My mom even started a cooking show that's doing pretty well — soon she's going to have more Facebook fans than me!
Grew my hair for an entire year
In October 2013, I shaved my head before we travelled to Hawaii. I decided when I shaved my head, that I would not cut it for an entire year, because I'd never grown my hair out before. I wanted to see what it would look like, and if I could pull it off. I was very happy with myself, and I felt a great sense of achievement in committing to my goal. In November of 2014, I went to the barber and trimmed it off.
What Worked Well in my Business
I want to take this opportunity to briefly touch on the things that went well for me in my business in 2014:
Focused on Creating Free Content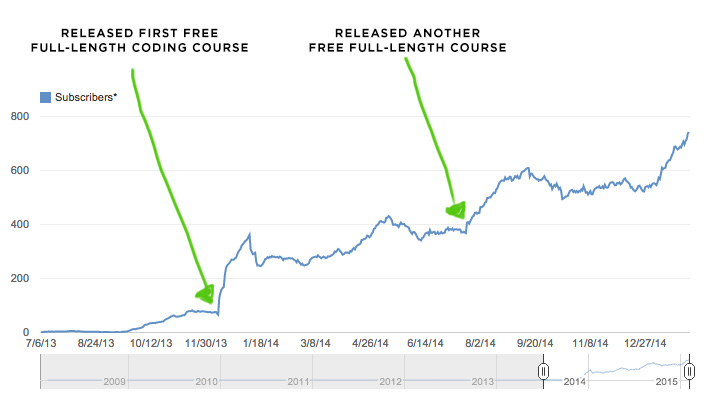 At the beginning of 2014, Laura greatly inspired me to give away a ton of free content. I wasn't totally convinced it was going to work, but she was adamant, telling me that it would give me more exposure, expand my reach, and establish trust with my audience. I took a huge risk, put three full-length courses on YouTube and something crazy happened…
Within only a few days, I started noticing a spike in my YouTube subscribers, and within only a few months, my subscribers went from only a couple hundred, to thousands! Laura was right, it worked.
That has since inspired me to create a ton of high quality, free content. I spent 6-months working to create a coding course that I gave away for free. I started blogging more, created more free tutorials, and focused on creating more and more massive value for my growing audience.
I found my "voice", and my mission has become clearer
Before 2014, I just blogged about random thoughts and ideas with no real focus, or theme to my writing. I never considered myself a "blogger", because I never had a purpose for it. But due to my growth on Udemy, Code College and YouTube, I started getting personal emails from my students who wanted more from me. They wanted more courses, they had questions about how to become a freelancer, how to live a full life, and how to take back their freedom. I started receiving "fan email", with people expressing their gratitude for what I've done for them, how I've helped them get a job, or how my courses have helped them learn to code and get a raise!
What!? Where was this all coming from? I couldn't believe it.
I started to feel a great responsibility to help these people who opened up, shared their stories, their struggles and their dreams with me. They were telling me what they needed from me — so I decided it was my mission to give it to them. Now, instead of randomly writing a blog post with no real purpose, I write about what my readers want me to write about: how to start a freelance career with no experience, how to code custom websites, how to take back their freedom and live a passionate life on their own terms.
This has been a huge eye-opener for me, and has since allowed me to expand my business into something much bigger than just coding websites for clients. I am so grateful, and so happy that what I love to do actually helps people. It drives me to do even more, and to deliver even higher value. My mission has become clear.
What Needs Improvement in my Business
Not everything went as planned, and not everything was successful. Some of those things include:
An inconsistent blog posting schedule
I had the best intentions of publishing a new article every Thursday morning, but that quickly turned into every other Thursday, then once a month, then … whenever I got around to it. I became so busy creating online courses, building custom websites for clients (and paddle-boarding), I just put writing on the back burner. I'm pretty new at this, but I want to make sure going into this new year I deliver quality blog posts on a more regular schedule.
Design of the blog
As a web designer, I look at my blog and just shake my head. And as a web developer, I'm not happy about the fact that it's just a paid WordPress theme. I've hacked together custom pieces of the site to accommodate my needs, but the structure, design & organization of the site is like Frankenstein's monster (if it were a website, I guess).
My current lineup of courses need fresh, new lectures
With over 65,000 students, I get a LOT of requests for new courses. It's a great position to be in, but it can also be overwhelming. My very first online course has served my students well, but compared to my latest course, it was clearly put together by a rookie (did you know I recorded those videos in one continuous take!?). It's my duty to make sure these older courses stay relevant, with new & updated lectures.
I take way too long to create online courses
It's probably what makes my courses so detailed, and thorough, but by the time I'm ready to publish a course, usually 6-months has passed! That's simply too long. I know I can streamline my process, and create the same quality in probably half the time.
YouTube posting consistency
Basically, I've been milking the 3 full-length courses on my YouTube channel for a year. They consistently bring in about 20 – 30 subscribers a day, but at some point, I'm just gonna look like a lazy dude who hasn't posted anything of quality in months. I have some great ideas for regular YouTube videos, and I think my subscribers will appreciate it. No more letting them down!
What's coming in 2015!
Now that I've ripped into everything that worked (and didn't work) in 2014, it's time to make some plans for 2015! Here are some of my bigger ideas I plan on working on this year:
New Blog Design
I plan on re-designing, and re-developing my blog from scratch. I'd love to be transparent with the process, too! Let my students and my subscribers "peak over my shoulder" and let them in on the entire process. Couple this with a regular blog posting schedule, and I think we're on the right track!
Massive growth within Code College
I have an ever-growing list of courses to work on, and I plan on upping my game with course creation. I'm going to offer the majority of these courses exclusively on Code College, and really nurture and cultivate the relationships with my students at Code College. Look forward to a lot of growth in the C.C. library!
A YouTube "show"
I have lots of "tips & tricks" when it comes to coding websites and building a freelance career. Not all of these tips & tricks are useful, or appropriate, for a full-length course. So I think if I record a bunch of short & useful video tutorials, then publish them on a regular schedule, my YouTubers will be happy 🙂
Outlandish Goals for 2015
I love the concept of setting goals that are seemingly "unrealistic", because it forces you to find a way to make it happen! I have a whole list of outlandish goals you can read about here, but I thought I'd add some specific goals to try and achieve in 2015. Keep in mind, some of these goals are not necessarily "outlandish" or "unrealistic", but they're still great goals:
Grow email list to 10,000 subscribers (currently have 3,500)
Grow YouTube subscribers to 15,000 (currently have 7,000)
Have at least 50 paid subscribers on Code College (currently have 5)
Travel somewhere hot & tropical
Attend a Conference
Meet Pat Flynn
At least double my 2014 revenue
Wrapping it all up
Well, this has been the longest blog post I've written to date, so if I've kept your attention this long, thanks so much for reading! I hope my 2014 review has been interesting to you. Perhaps it will inspire you to reflect on your life in 2014 and to think about what went well, what didn't, and what you'd like to achieve in 2015!
What are your Outlandish Goals for 2015?
I challenge you to create an "outlandish goals" list for this year. Go wild, and think about what you'd absolutely LOVE to conquer this year! Please share them with us in the comments, I would absolutely love to read them 🙂
I think you'll be surprised with what you can achieve by setting goals that may seem "unattainable" to most, but for us dreamers, anything is possible.
Here's to a brand new — happy, healthy & wealthy — year!
Think bigger, and never stop dreaming.
Dream on,
Brad