Making your first $500 as a Web Designer
When I started to learn how to code, it was about four months until I got my first paying client. During the Christmas break between semesters of my university diploma program, I was out at a pub with my wife and her colleagues from work. One of them just happened to be a chiropractor. He and his wife had recently started their own practice, and needed a website so they could start marketing themselves professionally. The problem was: They didn't have a big budget, or know where to look to get somebody to help them build their website.
I could see why my wife had introduced me to them. Smart girl!
I was nervous. But, I decided to step up to the plate. I said, "I'm actually studying web design and development at university. I can help you build your website. I'm just building my portfolio, so I'd be willing to design and code your website for a discounted price."
To my delight, they were so excited. They asked me to send them an estimate so we could get started.
I had no idea what to charge. But, I remembered one of my web design instructors mentioning to the class that "junior freelance designers shouldn't be charging any less than $40/hour".
I thought, I've never charged for my work before. Because I told the couple I'd do it for a discount, I thought $20/hour was fair.
So, I put together my very first estimate and sent it to the client. I said the project would take twenty-eight hours, plus some extra fees for stock photos and an instructional video.
[well]
The total amount of my very first paid web design project? $595.
[/well]
Amazing! I couldn't believe that I was going to earn over $500 doing something I would have done for free.
In the end, the website was the hardest thing I've ever coded (because of the learning curve, and my barely knowing HTML and CSS). It took me way longer than twenty-eight hours! But the client was so happy. I sent him my very first invoice: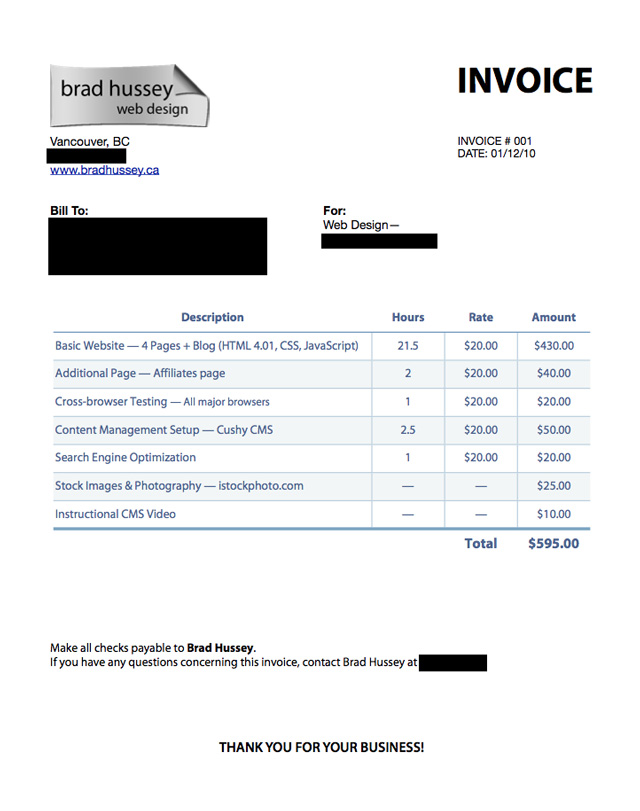 The first $500 is the hardest to make. Once you break that threshold, everything changes.
When you see an opportunity to book a project—whether it's your first or your hundredth—you need to seize it. Take a chance. Put yourself out there!
I could have very easily not mentioned to my wife's colleague that I was a web designer and could help him and his wife. I could have said, "Maybe when I'm done school, we can get in touch."
I didn't do either of those things! I put myself out there. That single decision changed the path of my career. I was officially a freelancer. I knew I could make something of it.
A timid individual doth not a freelancer make.
---
This is the third entry in a ten-part series called "Hacking a Freelance Web Design Career". Last week, we explored how to overcome your fear of failure. In the coming weeks, we'll be diving into some common questions and concerns regarding freelancing, and how you can build a sustainable and successful freelance career. Are you ready to start building your freelance career? Enroll in my free 60-day email course: "Cultivate a Successful Freelance Career".
Photo credit: Canadian Coins by Kat R on Flickr.com – license: Creative Commons